Corpus of Indus seals and inscriptions Vol. 3,1
Verfasst von pw am So, 09/05/2010 - 16:36.
Parpola, Asko [u.a.] (Hrsg.):
Corpus of Indus seals and inscriptions. Vol. 3: New material, untraced objects, and collections outside India and Pakistan / ed. by Asko Parpola, B. M. Pande and Petteri Koskikallio. - Part 1: Mohenjo-Daro and Harappa / in collaboration with Richard H. Meadow and J. Mark Kenoyer and with the assistance of Erja Lahdenperä, Jyrki Lyytikkä and Arto Vuohelainen. - Helsinki : Suomalainen tiedeakatemia, 2010. - lx, 443 S. : überw. Ill. - (Annales Academiae scientiarum Fennicae : Humaniora ; 359) (Memoirs of the Archaeological Survey of India ; 96)
ISBN 978-951-41-1040-5
EUR 295,00
DDC: 934.01; 411.70934

Inhalt
Preface. vi
ESSAYS. xvii
- Ute Franke: From the Oxus to the Indus: Two Compartmented Seals from Mohenjo-daro (Pakistan). xvii
- J. Mark Kenoyer & Richard H. Meadow: Inscribed Objects from Harappa Excavations 1986-2007. xliv
- Asko Parpola: New light on "Major Clark", Owner of the First Published Indus Seal. lix
BLACK-AND-WHITE PHOTOGRAPHS. 1-363
- Mohenjo-daro. 1
- Harappa. 137
COLOUR PHOTOGRAPHS. 365-412
BASIC DATA FOR THE OBJECTS ILLUSTRATED. 413-443
Beteiligte Personen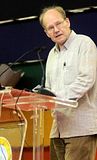 ASKO PARPOLA, Professor emeritus of Indology, University of Helsinki. Homepage.
RICHARD H. MEADOW is Director of the Zooarchaeology Laboratory at the Peabody Museum, Harvard University, Senior-Lecturer on Anthropology at Harvard, and Project Director of HARP, the Harappa Archaeological Research Project. Profile page.
JONATHAN MARK KENOYER is Professor of Anthropology at the University of Wisconsin Madison. Profile page.
Quellen: Academia Scientiarum Fennica; Indus Valley Civilization; GBV; Tiedekirja