Hidden Treasures of the Himalayas
Verfasst von pw am So, 08/15/2010 - 08:59.
Heller, Amy:
Hidden treasures of the Himalayas : Tibetan manuscripts, paintings and sculptures of Dolpo / Amy Heller. - Chicago : Serindia Publ., 2009. - 252 S. : Ill. + 1 DVD
ISBN 978-1-932476-44-6
US$ 95,00
DDC 294.3435095496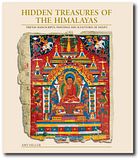 Beschreibung
In 1999, a hidden library was found in the Nesar Temple at a remote village of Bicher, in Dolpo, Nepal. It contains more than six hundred volumes of Tibetan manuscripts, ranging in date from the late 11th to the early 16th century. This library in many ways constitutes a cultural history of Dolpo in this period thanks to some sixty volumes with historical prefaces explaining the commission of the manuscripts for the Nesar Temple, while more than one hundred other volumes have illuminations of the scenes of the life of the Buddha and episodes from the Prajnaparamita (Perfection of Wisdom) texts. These illuminations inform us about the donors, their costumes, their Buddhist rituals while the dedications tell us about the systems of patronage and donation. Some illuminations reflect the ancient manuscripts of Tabo and Tholing, others reflect the sophisticated Newar aesthetic of Kathmandu and all these diverse tendencies reached Dolpo where they were appreciated.
By studying these texts within and examining the styles of the manuscript illuminations, Amy Heller was able to shed light on the history of this remote Tibetan enclave, the spread of Buddhism in the Himalayas and its artistic legacy. The manuscripts, sculptures and mural paintings discovered in Dolpo are the concrete expression of the complex economic, political, artistic and religious interactions between the people of Dolpo and their neighbours in India, Nepal, and Tibet.
In addition to the illuminations selected for publication, the reader will find in this volume a complimentary DVD that includes photographs of all volumes with historic dedications, all the illuminations and historic documents preciously conserved in Bicher village. A combination of Amy Heller's fine contributions, beautifully illustrated photographs, and a useful and accessible DVD makes this volume an important addition to the library of every scholar, collector, and academic institution with an interest in Himalayan studies. [Verlagsinformation]
Inhalt
The history of Dolpo and Bicher
Reconstructing the history of Bicher village
Nesar Temple and its contents
Illuminations and dedications in the Nesar manuscripts
Nesar Temple in the context of village temples in Dolpo and western Nepal
Autorin
AMY HELLER is a Tibetologist and art historian. Wikipedia [en]; list of publications.
Quellen: Serindia Publications; Amazon; WorldCat; Library of Congress