Krishna's Other Song
Verfasst von pw am Mo, 07/12/2010 - 18:48.
Rosen, Steven:
Krishna's other song : a new look at the Uddhava Gita / Steven J. Rosen ; foreword by Charles S.J. White. - Santa Barbara, Calif. : Praeger, 2010. - xviii, 293 S.
Einheitssachtitel: Uddhavagītā, Teil des Bhāgavatapurāṇa
ISBN 978-0-313-38326-7 / 0-313-38326-X
US$ 44,95 / £ 31,95
DDC: 294.5925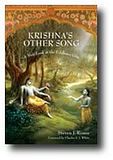 Beschreibung
Krishna's Other Song: A New Look at the Uddhava Gita examines the entire Uddhava Gita in relation to other Hindu scriptures, especially the Bhagavad Gita, and shares its teachings in light of interreligious understanding and nonsectarian spirituality. This edition's elaborate commentary, written by a prominent American scholar of Hindu studies, who is also a practitioner, opens up the text's esoteric teaching to a Western audience for the first time, adding context and relevance that make the book accessible and its teachings practicable for a Western readership.
A foreword, written by prominent Hinduism scholar Charles S. J. White joins the author's own introduction to lay out the Uddhava Gita's background, philosophical dimensions, and religious significance. This edition does not include the original Sanskrit, nor does it labor to translate each word verbatim. Rather, it gives the reader all 1,030 verses in plain English, offering accessible commentary that allows the meaning and relevance of the Uddhava Gita to unfold to one and all. [Verlagsinformation]
Autor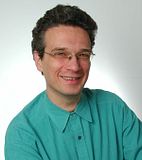 STEVEN J. ROSEN (Satyaraja Dasa) (*1955) is the author of numerous books, including Praeger's Krishna's Song: A New Look at the Bhagavad Gita and The Yoga of Kirtan: Conversations on the Sacred Art of Chanting. Wikipedia [en].
Quellen: Greenwood Publishing Group; WorldCat; Amazon; Library of Congress