Nationalism, Education and Migrant Identities
Verfasst von pw am Sa, 06/26/2010 - 21:47.
Mukherjee, Sumita:
Nationalism, education and migrant identities : the England returned / Sumita Mukherjee. - London [u.a.] : Routledge : 2010 [laut Routledge: 2009]. - VIII, 181 S. : Ill. - (Routledge studies in South Asian history ; 4)
ISBN 978-0-415-55117-5 (Hardcover)
ISBN 978-0-203-09218-7 (eBook)
£ 80,00
DDC: 304.808991411
DDC: 306.43209174914041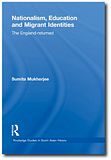 Beschreibung
This book examines the role western-education and social standing played in the development of Indian nationalism in the early twentieth century. It highlights the influences that education abroad had on a significant proportion of the Indian population. A large number of Indian students - including key figures such as Mohandas Karamchand Gandhi, Mohammad Ali Jinnah and Jawaharlal Nehru - took up prominent positions in government service, industry or political movements after having spent their student years in Britain before the Second World War. Having reaped the benefits of the British educational system, they spearheaded movements in India that sought to gain independence from British rule. The author analyses the long-term impact of this short-term migration on Britain, South Asia and Empire and deals with issues of migrant identities and the ways in which travel shaped ideas about the 'Self' and 'Home'. Through this study of the England-Returned, attention is drawn to contemporary concerns about the politicisation of foreign students and the antecedents of the growing South Asian student population in the USA and Europe today, as well as of Britain's growing South Asian diaspora. [Verlagsinformation]
Inhalt
List of illustrations. vi
Preface and acknowledgements. vii
Abbreviations used in references. ix
Introduction: the England-returned. 1
1. Indian students in the UK (1900-1947). 13
2. Images of Britain, India and the England-returned. 30
3. The social interactions of the England-returned. 50
4. The political identities of the England-returned. 81
5. The careers and long-term impact of the England-returned. 113
Conclusion: the future for the England-returned. 138
Notes. 143
Bibliography. 161
Index. 178
Autorin
SUMITA MUKHERJEE is a Post-Doctoral Researcher at the University of Oxford, UK, working on South Asian interactions with British life pre-1950. Profile page.