Art of Loving Krishna
Verfasst von pw am So, 07/04/2010 - 13:23.
Packert, Cynthia:
The art of loving Krishna : ornamentation and devotion / Cynthia Packert. - Bloomington ; Indianapolis : Indiana University Press, 2010. - ca. 256 S. : Ill.
ISBN 978-0-253-35478-5
US$ 75,00 (Hardcover)
ISBN 978-0-253-22198-8
US$ 27,95 (Paperback)
DDC: 704.948945
-- Angekündigt für Juli 2010 --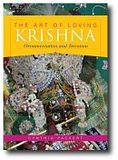 Beschreibung
Since ancient times, Hindus have expressed their love and devotion to their deities through beautiful ornamentation—dressing and decorating the deities with elaborate clothing, jewelry, and flowers. In this pioneering study of temples in Vrindaban and Jaipur, India, Cynthia Packert takes readers across temple thresholds and into the god Krishna's sacred domain. She describes what devotees see when they behold gorgeously attired representations of the god and why these images look the way they do. She discusses new media as well as global forms of devotion popular in India and abroad. The Art of Loving Krishna opens a universe of meaning in which art, religious action, and devotion are dynamically intertwined. [Verlagsinformation]
Inhalt
Acknowledgments. ix
Prologue: Seeing Krishna, Loving Krishna. xv
Introduction: A Sense of Place, an Open Heart, and an Educated Eye. 1
1. The Radharamana Temple: Divine Time, All the Time. 28
2. The Radhavallabha Temple: One Is Better than Two. 74
3. The Govindadeva Temple: From the King's God to the People's God. 123
4. Krishna to Go. 176
Conclusion: All Dressed Up and Everywhere to Go. 200
Notes. 209
Bibliography. 219
Index. 225
Autorin
CYNTHIA PACKERT is Professor of the Department of History of Art and Architecture at Middlebury College. She is author of The Sculpture of Early Medieval Rajasthan. Profile page.
Quellen: Indiana University Press; Amazon; WorldCat.