Light of Kailash
Verfasst von pw am Mi, 06/02/2010 - 09:08.
Namkhai Norbu [Nam mkha'i nor bu]:
The light of Kailash : a history of Zhang zhung and Tibet / Chögyal Namkhai Norbu. Transl. from the Tibetan and ed. by Donatella Rossi. - Vol. - 1: the early period. - Arcidosso : Shang Shung Publications, 2009. - 257 S. : Ill.
Einheitssachtitel: Źaṅ Bod kyi lo rgyus ti se'i 'od <engl.>
ISBN 978-88-7831-103-6
EUR 25,00 / US$ 34,00
DDC: 951.5008829954; 299.54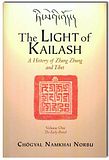 Beschreibung
... the cradle of Tibetan culture is to be looked for in the ancient realm of Zhang Zhung, which had the revered Mount Kailash as its center and heart, and in the Bon spiritual traditions which flourished within and spread from that kingdom.
The Light of Kailash, through meticulous selection and a critical use and analysis of a vast array of literary and often inedited sources, offers an open, daring, holistic, unbiased approach to the study of the cultural and spiritual heritage of Tibet, and to the understanding of the origin of this fascinating and endangered civilization. [Vom Buchumschlag]
Inhalt
Translator's foreword. 7
A technical note on the translation. 12
I. THE HUMAN GENERATIONS OF ANCIENT ZHANG ZHUNG
1. Nonhuman beings. 16
2. The four original great clans and six family lines of early human generations. 64
3. The sBe, Khyung, and sBra tribal groups of Zhang Zhung. 75
II. THE BON LINEAGES OF ANCIENT ZHANG ZHUNG
1. gShen-rab Mi-bo-che and the Mu-gshen lineage. 85
2. The diffusion of Bon after the birth of gShen-rab Mi-bo-che. 91
III. THE ROYAL LINEAGES OF ANCIENT ZHANG ZHUNG
1. The eighteen monarchs, holders of the horn-like crown. 130
2. The twelve minor principalities. 138
IV. THE WRITTEN LANGUAGE OF ANCIENT ZHANG ZHUNG
1. gShen-rab Mi-bo-che taught the written language of ancient Zhang Zhung. 150
2. The sPungs script of sTag-gzig. 159
V. THE CIVILIZATION OF ANCIENT ZHANG ZHUNG
1. gZi and Thog lcags. 167
2. Rock carvings. 175
3. The science of arts and crafts. 180
4. Music. 185
5. gTo and its cultural foundations. 188
6. Ju thig. 189
7. Mo-pra. 192
8. Dreams (rMi lam). 212
9. Numerological astrology. 213
10. Medicine. 217
Bibliography. 221
Indexes. 229
Autor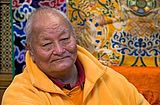 CHÖGYAL NAMKHAI NORBU (Chos rgyal Nam mkha'i nor bu) (*1938), former Professor of Tibetan and Mongolian language and literature at the University of Naples L'Orientale, has dedicated his academic career to the study of Tibetan culture and has published a number of works, in particular, on its origin [vom Buchumschlag]. Wikipedia [en].
Übersetzerin
DONATELLA ROSSI holds a Ph.D. in History of Religions and Tibetology from the University of Oslo. She is associate Professor at the Faculty of Oriental Studies, Sapienza University of Roma, where she teaches religions and philosophies of Eastern Asia and Tibetan language and literature. She has authored several publications specifically focused on the Bon traditions [vom Buchumschlag]. Profile page.
Quellen: Shang Shung Publications; Shang Shung Institute US; Wisdom Books