Worship of Bhima
Verfasst von pw am Di, 04/20/2010 - 21:40.
Duijker, Marijke:
The Worship of Bhīma : the representations of Bhīma on Java during the Majapahit period / proefschrift ... door Marijke Duijker. - 2 vols. - Amstelveen : Eon Pers, 2010. - 336 S., 186 S. : Ill. [Onlline Ressource]
ISBN 978-90-77246-39-9
Hochschulschrift. Leiden, Univ., Diss., 2010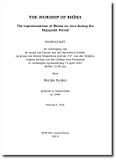 Beschreibung
This study deals with stone representations of Bhīma, one of the protagonists of the Hindu epic Mahābhārata. This epic which originates from India, is already known on Java in the tenth century. The Bhīma representations which include statues and reliefs appeared during the Majapahit Period (1296-1527 C.E.) and were mainly found on mountain sanctuaries in present East and Central Java. Given the number of statues found, there was a worship of Bhīma going on during the Majapahit Period. The study researches the motives, the spread and the origin of the worship, its relation to other gods and the influence of wayang on the worship. It concentrates on the iconography of Bhīma, and the interpretation of his iconography. Furthermore it examines Bhīma literature and the material and historical context of the Bhīma representations. This interdisciplinary research shows that protection, salvation and fertility were motives for the Bhīma worship. It also indicates that Bhīma's descent from Bāyu, the god of the wind and his father, was substantial for his worship. The worship was definitely of Javanese origin and the wayang played a considerable role in it.
Inhalt
Volume 1: Text
Foreword. 11
Introduction. 13
PART 1: THE ICONOGRAPHY OF BHĪMA
1.1 The iconography of stone representations of Bhīma and the worship of Bhīma outside Java. 29
1.2 The iconography of stone representations of Bhīma on Java during the Majapahit Period. 37
1.3 Comparison of the iconography of Bhīma in and outside Java. 69
1.4 The iconography of Bhīma during the Majapahit Period compared to the iconography of statues from the same period. 71
1.5 The interpretation of the iconographical features of Bhīma. 79
1.6 Conclusion. 93
PART 2: BHĪMA IN LITERATURE, NARRATIVE RELIEF SCENES AND INSCRIPTIONS
2.1 Bhīma in Old Javanese literature and in a Balinese Sanskrit text. The parwa, kakawin, kidung and stawa. 99
2.2 Bhīma's role in relief scenes. 161
2.3 The Bhīma inscriptions. 183
PART 3: THE MATERIAL AND HISTORICAL CONTEXT
3.1 Bhīma statues and terraced sanctuaries. 195
3.2 The Majapahit Period. 235
General conclusion. 253
Appendix: Catalogue of Bhīma representations. 261
Abbreviations. 305
Bibliography. 306
Summary. 321
Samenvatting in het Nederlands. 329
Curriculum vitae. 336
Volume 2: Illustrations. Index
List of Figures. 7
Figures. 13
Index. 179
Quelle: Leiden University Repository