Kudiyattam Theatre and the Actor's Consciousness
Verfasst von pw am Sa, 03/13/2010 - 21:40.
Madhavan, Arya:
Kudiyattam Theatre and the Actor's Consciousness / Arya Madhavan. - Amsterdam ; New York : Rodpi, 2010. - 212 S. : Ill. - (Consciousness, Literature and the Arts ; 25)
ISBN 978-90-420-2798-5
EUR 42,00 / US$ 59,00
DDC: 792.095483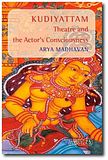 Beschreibung
This book explores the training methods, performance and aesthetics of Kudiyattam, the oldest existing theatre from in the world. It brings together for the first time a comprehensive analysis of the psycho-physical techniques employed by the actors in Kerala of this temple theatre form. The book offers an in-depth analysis of pakarnnattam, a unique acting technique that helps the actor to perform multiple characters in a single dramatic situation. This multiple transformational acting technique is highly relevant to enhance the actor's abilities such as imagination, spontaneity and improvisation. The book employs a range of theoretical models developed from performance studies, gender theories, consciousness studies, Indian aesthetic and philosophical theories to investigate the actor's body in training and performance. Most significantly, for the first time, the book offers some extra-ordinary insights into the links between the actor's breathing and consciousness. It covers a range of topics: Hatha Yoga breathing techniques, eye training, hand gestures, movement techniques, voice training and rasa acting. [Verlagsinformation]
Inhalt
Acknowledgements. 9
Introduction. 11
1. The Actor's Consciousness: Contemporary Western Approaches. 33
2. The Actor's Consciousness: Indian Approaches to Actor Training and Acting with Particular Reference to Kudiyattam. 71
3. Natyasastra, Kudiyattam and Actor's Consciousness. 151
Conclusion. 203
Bibliography. 209
Autorin
ARYA MADHAVAN is a Lecturer in Drama at Lincoln School of Humanities and Performing Arts, University of Lincoln, United Kingdom. Profile page.
Quellen: Rodopi; WorldCat; Amazon (Deutschland); Google Books.