The Goddess and the Nation
Verfasst von pw am Mi, 03/24/2010 - 07:35.
Ramaswamy, Sumathi:
The goddess and the nation : mapping Mother India / Sumathi Ramaswamy. - Durham, NC : Duke University Press, 2010. - ca. 400 S. : Ill.
ISBN 978-0-8223-4592-3 (Hardcover)
US$ 99,95
ISBN 978-0-8223-4610-4 (Paperback)
US$ 27,95
DDC: 954.035
-- Angekündigt für März 2010 --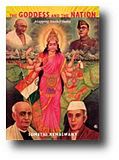 Beschreibung
Making the case for a new kind of visual history, The Goddess and the Nation charts the pictorial life and career of Bharat Mata, "Mother India," the Indian nation imagined as mother/goddess, embodiment of national territory, and unifying symbol for the country's diverse communities. Soon after Mother India's emergence in the late nineteenth century, artists, both famous and amateur, began to picture her in various media, incorporating the map of India into her visual persona. The images they produced enabled patriotic men and women in a heterogeneous population to collectively visualize India, affectively identify with it, and even become willing to surrender their lives for it. Filled with illustrations, including 100 in color, The Goddess and the Nation draws on visual studies, gender studies, and the history of cartography to offer a rigorous analysis of Mother India's appearance in painting, print, poster art, and pictures from the late nineteenth century to the present.
By exploring the mutual entanglement of the scientifically mapped image of India and a (Hindu) mother/goddess, Sumathi Ramaswamy reveals Mother India as a figure who relies on the British colonial mapped image of her dominion to distinguish her from the other goddesses of India, and to guarantee her novel status as embodiment, sign, and symbol of national territory. Providing an exemplary critique of ideologies of gender and the science of cartography, Ramaswamy demonstrates that images do not merely reflect history; they actively make it. In The Goddess and the Nation, she teaches us about pictorial ways of learning the form of the nation, of how to live with it - and ultimately to die for it. [Verlagsinformation]
Autorin
SUMATHI RAMASWAMY is Professor of History at Duke University. She is the author of Lost Land of Lemuria: Fabulous Geographies, Catastrophic Histories and Passions of the Tongue: Language Devotion in Tamil India and the editor of Beyond Appearances? Visual Practices and Ideologies in Modern India. Faculty profile.
Quellen: Duke University Press; Amazon; WorldCat; Library of Congress