Medicine, Race and Liberalism in British Bengal
Verfasst von pw am Fr, 03/12/2010 - 07:58.
Pande, Ishita:
Medicine, race and liberalism in British Bengal : symptoms of empire / Ishita Pande. - Milton Park, Abingdon, Oxon ; New York : Routledge, 2010. - x, 257 S. : Ill. - (Routledge Studies in South Asian History ; 5)
ISBN 978-0-415-77815-2 (Hardback)
ISBN 978-0-203-09219-4 (eBook) [bereits 2009 erschienen]
£ 85,00 / US$ 145,00
DDC: 362.1095414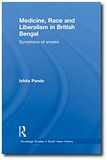 Beschreibung
This book focuses on the entwinement of politics and medicine and power and knowledge in India during the age of empire. Using the powerful metaphor of 'pathology' - the science of the origin, nature, and course of diseases - the author develops and challenges a burgeoning literature on colonial medicine, moving beyond discussions of state medicine and the control of epidemics to everyday life, to show how medicine was a fundamental ideology of empire. Related to this point, and engaging with postcolonial histories of biopower and modernity, the book highlights the use of this racially grounded medicine in the formulation of modern selves and subjectivities in late colonial India. In tracing the cultural determinants of biological race theory and contextualizing the understanding of race as pathology, the book demonstrates how racialism was compatible with the ideologies and policies of imperial liberalism.
Medicine, Race and Liberalism in British Bengal brings together the study of modern South Asia, race theory, colonialism and empire and the history of medicine. It highlights the powerful role played by the idea of 'pathology' in the rationalization of imperial liberalism and the subsequent projects of modernity embraced by native experts in Bengal in the 'long' nineteenth century. [Verlagsinformation]
Inhalt
Acknowledgements. ix
1. Introduction: Medicine, race and liberalism in British Bengal. 1
PART 1: RACE AND PLACE. 19
2. Diagnosing Character: Liberal Racialism and the Black Aryan. 21
3. Standard Deviation: 'National Character', phrenology and a science of government. 44
PART 2: BLOOD AND MORALS. 63
4. Seeing Reason: Dissection, history of medicine and English education. 65
PART 3: CITY AND CITIZENSHIP. 95
5. Sanitary Subjects: Fevers, filth and freedom in a dual city. 97
6. Sensing Modernity: Civility, class and citizenship in a sanitary city. 121
PART 4: SEX AND PUBLIC. 149
7. Degenerate Nation: Sex, public and a government of self. 151
Epilogue: Bengali modern. 177
Notes. 189
Bibliography. 235
Index. 252
Autorin
ISHITA PANDE is Assistant Professor of History at Queen's University, Ontario. Her research interests include the history of science and medicine, cities, gender, race and childhood. Faculty profile.
Quellen: Routledge; Library of Congress; Amazon; WorldCat