Illustrating India
Verfasst von pw am Do, 03/18/2010 - 12:57.
Howes, Jennifer:
Illustrating India : the early colonial investigations of Colin Mackenzie (1784-1821) / Jennifer Howes. - New Delhi : Oxford University Press, 2010. - xiv, 269 S. : Ill., Kt.
ISBN 978-0-19-806441-1
£ 75,00 (OUP UK)
Rs. 2750,00 (OUP IN)
-- Angekündigt für März 2010 --
DDC: 954.0350222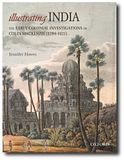 Beschreibung
Colin Mackenzie, the first Surveyor General of India, left behind a massive collection of manuscripts and drawings gathered between 1784 and 1821. Collected mainly in southern India, but also in north and east India, Sri Lanka, and Java, they form the largest and oldest extant archive of drawings to be gathered by a single European collector in Asia. The collection has never been comprehensively accessed and most historians are not even aware of its existence. This book presents for the first time a substantial though representative portion of Mackenzie's collection.
The visuals in the book are records of monuments, sculpture, landscapes, castes, and social structure in the late eighteenth and early nineteenth centuries. Jennifer Howes' narrative not only contextualizes the visuals but also provides a panoramic view of the Indian subcontinent between late eighteenth and early nineteenth century. She provides an engaging account of people and everyday life in Hyderabad and Mysore, trades and occupations, temples and monuments and the various surveys conducted by Mackenzie. This book will be a significant resource for scholars' of late medieval and early modern India. It will also interest art historians, archaeologists, and anthropologists. [Verlagsinformation]
Inhalt
List of Illustrations
Acknowledgements
Introduction
1. The Survey of the Nizam of Hyderabad's Dominions: 1792 to 1799
2. Historians and Orientalists
3. Trades and Occupations: The People of Mysore
4. Temples
5. Mahabalipuram
6. The Later Surveys: 1811 to 1821
Epilogue
Biographical Notes on Draftsmen and Copyists
Employed by Colin Mackenzie
Bibliography
Index
Autorin
Jennifer Howes is Curator of Prints, Drawings, and Photographs, Asia Pacific & Africa Collections, British Library.
Quellen: Oxford University Press (UK); WorldCat; Amazon (UK); Oxford University Press (IN)