Archaeology and Text
Verfasst von pw am So, 02/28/2010 - 23:46.
Ray, Himanshu Prabha (Hrsg.):
Archaeology and text : the temple in South Asia / ed. by Himanshu Prabha Ray. - New Delhi : Oxford University Press, 2010. - xvi, 311 S. : Ill.
ISBN 978-0-19-806096-3
Rs. 795,00
US$ 17,28 (Eastern Book Corp.)
US$ 30,85 (inkl. Airmail) (Biblia Impex)
US$ 45,00 (inkl. Airmail) (K.K. Agencies)
DDC: 294.5350954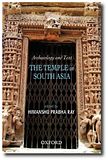 Beschreibung
What is a temple? Who built or patronized such structures and why? Temples have always formed a crucial element of the cultural landscape of South Asia. Combining textual analysis, archaeology, and archival research with contemporary anthropology, Archaeology and Text provides a stimulating appraisal of religious life in the past.
Through detailed case studies from regions like Karnataka, Maharashtra, Madhya Pradesh, Rajasthan, Bengal, and Orissa, the book examines both the religious architecture of the temples and the cultural practices surrounding them. The essays underscore the importance of the temple in its interaction with diverse interest groups, such as worshippers, ritual specialists, ascetics, patrons, artisans, and others. They also show how temples were not only expressions of political authority but also formed important centres of learning, popular devotion, and pilgrimage.
The volume explores the development of bhakti and ascetic traditions in the subcontinent in relation to temples. It investigates the relationship between sacrificial rituals and devotional practices; emergent religious cultures and older traditions; and temples and renouncers. The collection also questions the notion of boundaries surrounding religious traditions underlining the fact that present categories do not fit neatly in those of a bygone era. The introduction provides a succinct account of sacred spaces as they came to be defined in archaeological records from the first millennium BCE onwards. [Verlagsinformation]
Inhalt
List of Figures
Gavin Flood: Preface
Acknowledgements
Himanshu Prabha Ray: Introduction
SECTION 1: ARCHAEOLOGY OF THE TEMPLE
1. Himanshu Prabha Ray: Creating Religious Identity : Archaeology of Early Temples in the Malaprabha Valley
2. Parul Pandya Dhar: The Ambika Temple at Jagat
3. Devangana Desai: Textual Tradition and the Temples of Khajuraho
4. Kumud Kanitkar: Ambarnath Siva Temple : Sculptured Panels Illustrating Rituals Described in Temple Architecture Texts
5. Lisa N. Owen: Absence and Presence : Worshipping the Jina at Ellora
6. Sandrine Gill: The Kantanagar Temple : Hindu Temples in East Bengal under the Mughals
7. Sanjay Garg: Money of the Gods : The Religious Tokens of India
8. Indra Sengupta: Sacred Space and the Making of Monuments in Colonial Orissa in the Early Twentieth Century
SECTION 2: ASCETICISM AND THE BHAKTI TRADITION
9. Patrick Olivelle: The Temple in Sanskrit Legal Literature
10. Natalia R. Lidova: The Changes in Indian Ritualism : Yajna versus Puja
11. John Stratton Hawley: Seeing the Bhakti Movement
12. John E. Cort: World Renouncing Monks and World Celebrating Temples and Icons : The Ritual Culture of Temples and Icons in Jainism
13. T. S. Rukmani: Samnyasins in a Temple Context
Notes on Contributors
Herausgeberin
HIMANSHU PRABHA RAY, Professor at the Centre for Historical Studies, Jawaharlal Nehru University, New Delhi. Profile page.
Quellen: Oxford University Press (India); WorldCat; Biblia Impex; K.K. Agencies; Eastern Book Corp.; Library of Congress.